Metal Roofing In Raleigh, NC
Are You Considering Metal Roofing In Raleigh, NC?
Metal roofs are a popular option for those wanting to maintain their roofs without much need for upkeep. Metal roofs on Raleigh homes, whether old or new, have the ability to last years longer than other types made of different materials because they don't wear down as much as asphalt shingles do.
Whether you are putting up metal panels onto your existing home, or your brand-new house is in need of metal roofing – there is a myriad of options to select from that will fit your style perfectly! No matter the style you choose, you can always rely on a local Raleigh roofing company like C.J. Deans Roofing to help you make your home look great and protected throughout all four season changes respectively.
Why Metal Roofing Is Great For Raleigh Roofs
New metal roofing can significantly increase the resale value of your Raleigh home. Raleigh homeowners who invest in metal roofs typically get an average return on investment of 95.9% upon selling their homes. This is because metal roofs have many advantages, including fire resistance, energy efficiency, as well as reducing insurance costs, and saving you money. For those living in North Carolina or other locations with above-average exposure to different weathers that could cause damage, a roof made with reliable material such as steel or stone-coated aluminum is a necessity.
Metal roofing installation is a complicated process that should only be attempted by qualified roofing professionals in Raleigh and nearby communities. Metal roofs are known for their innate durability, and it's best to consider metal roofing before starting any big roofing project.
Reliable Metal Roofing From Start To Finish
Metal roofs come with many advantages, but there are also some considerations you'll want to be mindful of before installing. First and foremost is the process of the installation itself – it can be tricky depending on local building codes or different weather conditions present specifically to your geographic area. While metal roofs are long-lasting, they are generally more expensive to install, and repair compared to some other types of roofing systems such as asphalt shingles. It is important to consider factors like these in making the right decision on choosing the type of metal roofing system that will work best for both functionality and cost-efficiency at your Raleigh or nearby residency.
Types Of Metal Roofing Panels For Raleigh Homeowners
Before constructing a new building or renovating your home, it's important for you to at least familiarize the different materials that are on the market. Steel (galvanized, galvalume, and weathering), aluminum, copper-zinc, and tin roofing – are some of the accessible options. Panels also come in three styles: 1. Vertical seam panels, 2. Preformed panels, which allow a tighter installation around corners contrary to laying them out flat as that of shingle style roofs, and 3. Tile-patterned, granular coated steel sheets applied by laser cutting technology. This process works by cutting one side of the panel while leaving another side slick so they can slide into place effortlessly during assembly since this product type possesses two sides.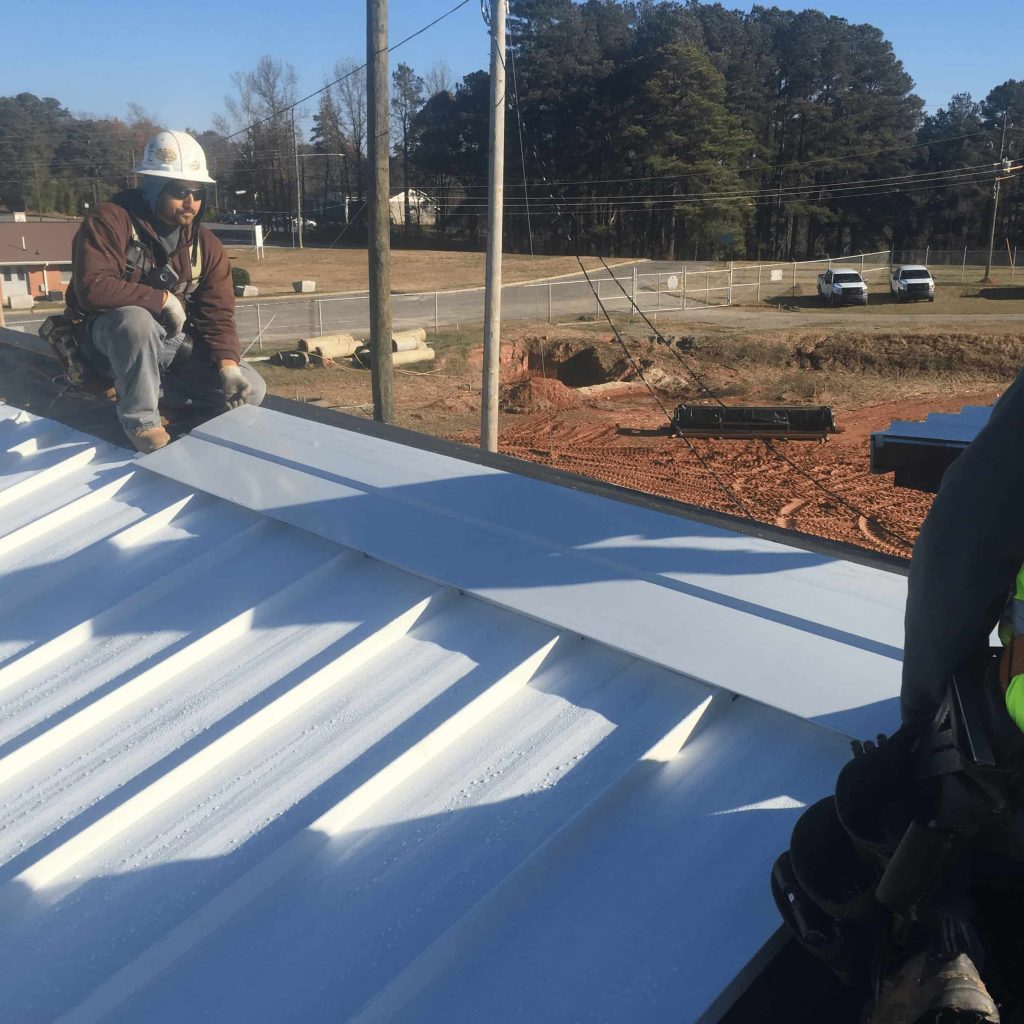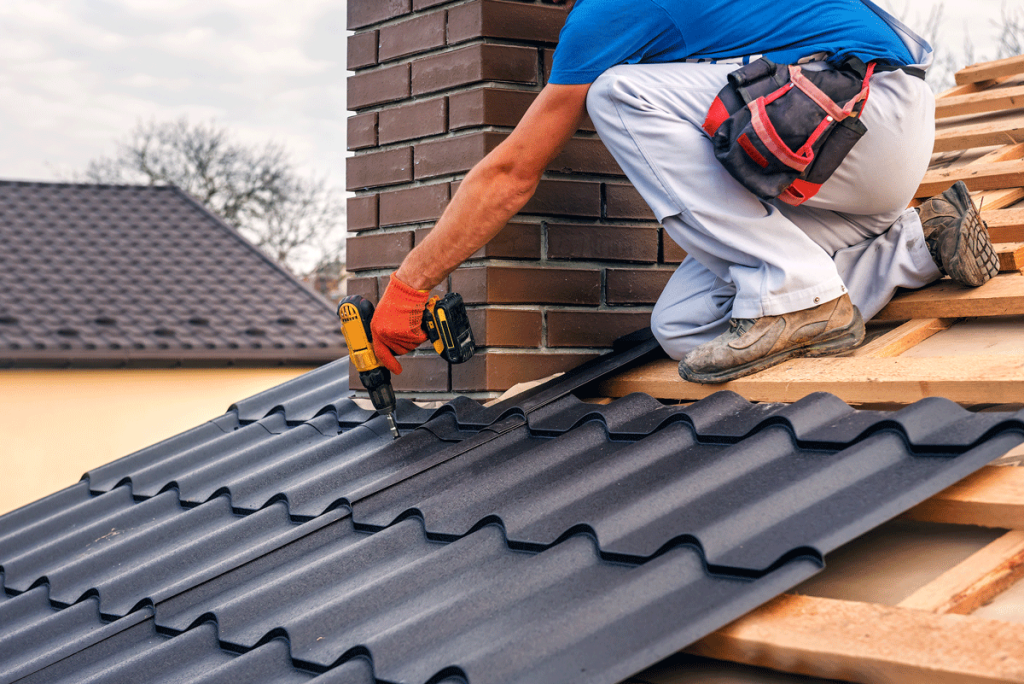 Get More Protection With Coated Metal Roofing
Metal roofing and siding panels are exposed to the environment and elements every day. Selecting a coating system that aligns well in providing protection, aesthetics, and quality is significant. There are also plenty of other coating options that can work.
Metal Roofing With Resin Coating
Resins hold the pigment together while protecting coatings from harmful UV degradation. In metal roofs, the most common resins are Polyester, Silicone Modified Polyester, and PVDF. All three have impressive performance ratings but are ranked as good-better-best according to their quality respectively.
During the metal coating process, solvents evaporate, this is necessary to ensure that metal surfaces are coated with a resilient and strong protective layer. Without solvents, the paint fails to adhere properly to any surface without leaving behind an uneven finish.
Without pigments, applying any type of color to any surface is impossible. Adding pigment into the binder/resin establishes the color of the pain. The pigment comes in an array of colors to suit any possible taste and preference.
Print Coating Metal Roofs
Print coatings create a combination of one-of-a-kind colors that is unique to any other. This coating can closely resemble designs like slate, wood shake, COR-TEN Steel, or even camo depending on which type of print you select for the project at hand. Unlike any conventional inks and paints, these multi-layered effects produce vibrant colors. They also provide added resistance to fading from sunlight exposure over time like what acrylic paint can do once it has been applied onto an object painted by the said material.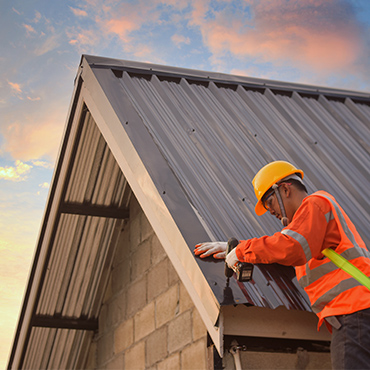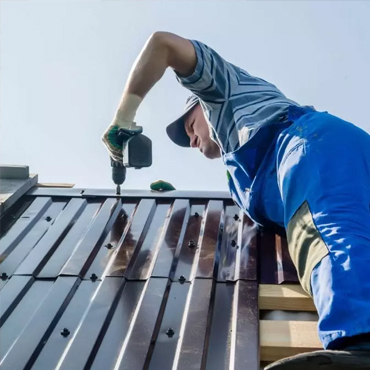 Express Yourself Through Various Metal Roofing Styles
The most important factor to consider when replacing your current shingle style with a metal one is durability. This roofing style boasts a 50+ year lifespan. Metal roofs in Raleigh have gained popularity over the years and now come in many shapes and colors. You can select from a wide range of styles to suit any need or taste. Once you decide on replacing your roofing system with metallic materials and the right substrate and coatings, consider the style that will work best for you relative to how long you need your metal roof to last. With the increasing number of manufacturers producing different styles, types, and finishes for metal roofs daily, it is clear that many Raleigh homeowners or building owners have been convinced of the benefits of metal roofs as replacement roofs for their properties.
The most budget-friendly of the metal roofing options for houses is the exposed fastener panels. These can be installed over a solid deck and are attached with fasteners that go through the panel and into the structure below, making it very budget-friendly while still providing the benefits of metal roofs.
Exposed fastener panels, in general, are 36" wide, this means that the roof area requires fewer panels and less labor. Exposed fastener panels are offered in a wide range of styles with different colors to suit unique preferences for our Raleigh customers' homes or businesses. The panels can also be painted to cover any visible screws.
Standing seam metal roofing is a panel type composed of male and female legs (seams) on the inside. These seams lock the panels together, so exposed fasteners are no longer required once installed. They also come in various types like the clipless panels, which do not have visible screws or clips to attach them down.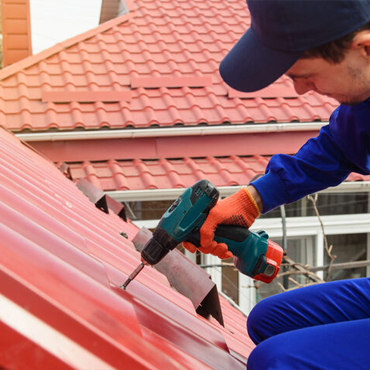 Tin Roofing - Specialty Tin Roofing Panel Styles
Specialty tin roofing is designed to mimic the appearance of common materials such as ceramic tile or slate shingle, without sacrificing the longevity and energy efficiency qualities of tin roofing. They come in an array of finish options so building owners can enjoy experimenting with the shape of tiles or shakes while choosing whatever color they prefer. Tin roofing in Raleigh has become quite popular over the years. To learn more about tin roofing give C.J. Deans Roofing a call today!