Commercial Shingle Roofing In Raleigh, NC
Commercial Shingle Roofing In Raleigh, NC
Shingle roofs are typically thought of as an option for residential roofing, however, there has been a favorable trend in its usability for commercial roofing. For steep-slope commercial roofing applications, shingles are frequently employed for a good reason.
Shingles can be formed by using a variety of materials including plastic, metal, slate, wood, ceramic, and asphalt-based composites. Asphalt and architectural shingles are the two most common types of shingles.
Materials Used For Commercial Roof Shingles
Roof shingle types differ based on the materials used in their manufacture. Some of the materials used in commercial shingle roofing include:
Clay Tile

Wood 

Metal

Slate

Composite Materials

Recycled Plastic/Other Recycled Materials

Fiberglass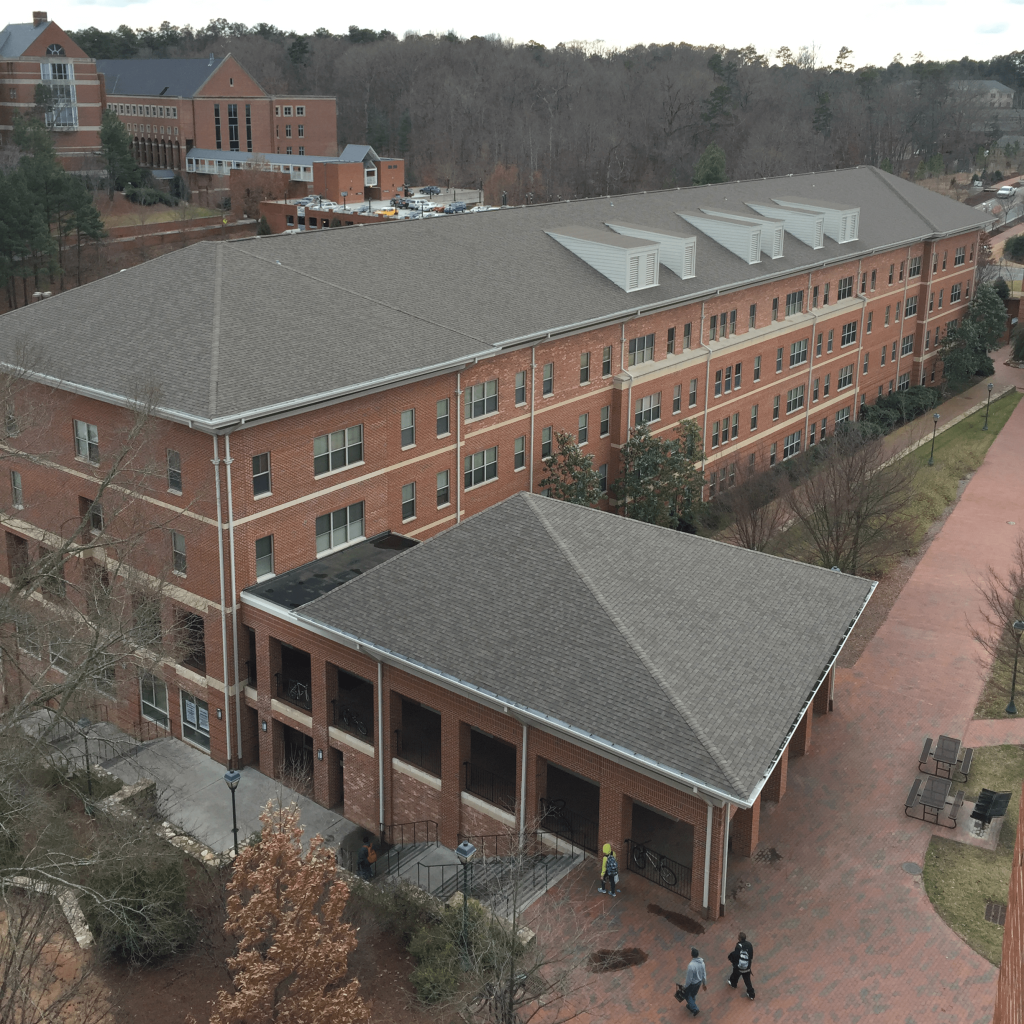 Benefits Of Commercial Shingle Roofing In Raleigh, NC
Because shingles are more convenient to use in steep-sloping roofs, some commercial structures purposely choose a sloping roof shape to allow shingle installation. While shingles have long been used in residential roofing, commercial shingle roofing has grown popular nowadays for the set of advantages they give to many business owners across the country.
The following are some of the benefits of roof shingles that facilitated the shift in its use:
Long Lifespan
Thanks to advancements in technology, shingles now have a lifespan of up to 25 years or even more from the time of installation.
Affordability
Roof shingles are quite inexpensive when compared to other roofing options such as concrete tiles.
Simple Installation
Because they are installed by interlocking rectangular shingles, they are quite simple to install, usually requiring only one commercial shingle roofer.
Durability
UV rays, fire, water, and other elements are all effectively repelled by roof shingles.
Low-cost Maintenance
Roof shingle repair is cost-effective, as it usually only necessitates the replacement of a single faulty shingle rather than the entire roof.
Recyclability and Reusability
Shingles are extremely reusable and recyclable. As a result, they can be used as an environmentally beneficial roofing solution.
Great Aesthetic Value
Shingles are attractive, and the variety of designs and colors available give a classic, natural-looking roofing style.
Accessibility
Shingles can be found in most local retailers and distributors.
Employ Reliable Commercial Roofers
While the ease of installation makes shingle roofing appealing for many businesses, finding a qualified commercial shingle roofer can still prove difficult. Professional and dependable commercial roofers provide the following advantages:
Safety and Security
Because roofing requires working at a higher elevation, hiring a commercial shingle roofer reduces the risk of falling and other safety hazards.
Quality Workmanship
Because of the roofer's experience and training, you can expect high-quality work.
Deliver On Time
You save time since you'll be working with a professional who understands exactly what to do and how to do it quickly to achieve the desired result.
Efficiency
A commercial shingle roofer is obligated to use resources as efficiently as possible, hence reducing waste.
Lasting Results
An experienced commercial shingle roofer will fit the shingles properly, ensuring superior results. Our team of roofing specialists at C.J. Deans Roofing has extensive experience in commercial shingle roofing and is guaranteed to deliver excellent service for you.
Shingle Roofing vs. Metal Roofing For Commercial Use
Lower Unit Price
When compared to metal roofing options, shingles are less expensive per square foot, saving the business owner money.
More Recyclable & Reusable
Shingles are a more environmentally friendly roofing option than regular metal roofing since they can be recycled and reused.
Less Labor-Intensive
When shingles are installed, the amount of professional labor required is substantially lesser than when other types of roofs are repaired.
Coast-friendly
Metal roofing can be disappointing in coastal places since the salt present in the air caused by the ocean corrodes it. Shingles are more suitable for usage on the coast since they are composed of materials that are not harmed by salt.
More Weight Pressure Tolerance 
Shingles can withstand additional weight without structural changes; however, metal roofs are more prone to dent, collapse, or scuff under pressure.
Service Accessibility
Because shingles are so easy to install, there are more shingle roofers on the market than other types of roofers.
At C.J. Deans Roofing, we assist our customers in selecting the appropriate roof for their structure and budget. We want you to be confident in your roofing decision, so we're here to answer any questions you have about commercial shingle roofing and why it might be a good fit for you.
Expect The Best Commercial Shingle Roofing With C.J. Deans Roofing
For commercial roofing projects in Raleigh, NC, particularly large ones, you must select a roofing contractor who is not only experienced and diligent but also honest and trustworthy. You should always feel confident that their work will stand the test of time and adhere to the terms of your shingles' manufacturer's warranty. Moreover, you should be assured that the quoted price is reasonable and that they will stick to the agreed-upon turnaround time.
When a commercial roof is correctly planned and maintained, its lifespan can be greatly increased. We take pride in our Raleigh commercial roofing projects and look forward to helping many more North Carolina commercial businesses with their commercial roofing repair and replacement needs. Commercial roofing brings many advantages, including increased occupancy, reduced interior temperatures, and less cooling burden on air conditioners. Contact C.J. Deans Roofing to learn more about the benefits of a new roof coating or commercial roof replacement for your company. Call C.J Deans Roofing, today!