Commercial Roof Coating In Raleigh, NC
Commercial Roof Coating In Raleigh, North Carolina
C.J. Deans Roofing operates with expertise and highly values integrity. We are committed to finding the best roof sealer options that are most suitable and beneficial for your roof style. Many people are not aware of the benefits that roof coatings provide. One obvious advantage is being able to completely avoid having to replace the roof, leaving you with an empty wallet. A roof coating can make your roof more protected and last longer, saving you a chunk of money in the long run! Contact us today for your commercial roof coating needs.
Roof Coating Versus Roof Replacement
Apparently, full roof replacements can cost you a lot. This is true especially if the area needs larger work like government buildings or corporate buildings. Issues with roof breakdowns commonly show up when it's least expected. When this happens, you may haven't saved any money and are forced to pay for a full roof replacement. The weight of this consequence can be a lot for you to take in, which is why we are here to prevent these things from happening and provide you with cost-effective roofing solutions such as roof coatings. This application can be a lifesaver from having to need an expensive roof replacement.
Applying a roof coating can extend the lifespan of your roof for up to 20 years or longer. In addition, it benefits you by being able to avoid or minimize the chances of having to replace your roof. Roof coatings act as a safety layer that will protect your roof from harmful weather elements and prevent any issues from underneath. Aside from safety, comfortability is also a benefit of roof coating because the reflective property of the coating keeps the building under it much cooler. Having his feature is like hitting two birds with one stone – comfort and energy-saving – benefiting any business owners and homeowners alike. Whether you're looking for stability or an environment-friendly roof, we at C.J. Deans Roofing can provide you with the best roof coating that meets your needs so you can have peace of mind knowing you have a strong and reliable roof over your head.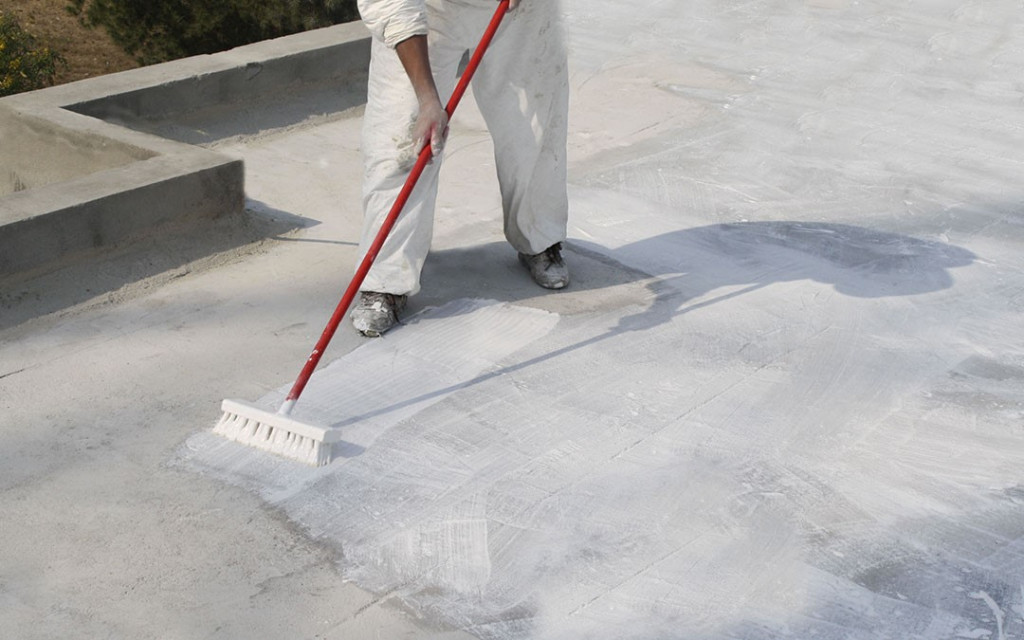 We'll Treat Your Roof Like It's Ours
You may find us doing our jobs meticulously, simply because we want excellent results. The initial part in applying a roof coating includes deep cleaning of the roof's surfaces to make sure that the roof coating is distributed well for a beautiful finish.  Aside from doing our work very seriously, we also value your feedback so we can continue doing what's best for our customers and grow. We will see to it that you are well-informed about the processes. Our roof contractors will give their best at all times and only resort to what is necessary for coating your roof to your satisfaction.
Types Of Coatings We Offer
There are several kinds of roof coatings to check on prior to starting the process. Asphalt is one and has a natural look that can mix well with many different styles and its surroundings. It can be sprayed or brushed and is known to work well with metal roofs. Acrylic is another choice that is common and can perform well in preventing rust. Rubberized aluminum is a great option if you are looking to insulate your home, provide protection from the sun's rays, and get a roofing that is highly resilient to impact- it's very good for built-up or single-ply roofs. Silicone roof coatings are slow to corrosion and are the favored choice to avoid standing water from accumulating as well as offer added UV protection; modern silicone formulas make it a popular option for commercial use because of its high level of functionality. More options include polyureas, urethanes, polyurethanes, or granules. Learn more about what coating is best for your roof by speaking with us today!
Enhance Your Roof With Us Today!
We pride ourselves as your best choice for applying roof coatings efficiently in a timely manner. We possess the experience and expertise in the roofing industry that is already proven by the numerous commercial roofing projects we have accomplished for our customers. Applying roof sealers are a great investment and will pay you off in the long run while also steering you away from having to spend on expensive roof repairs and replacements. We look forward to helping you with any roofing needs with your best interest in mind. 
Roof coatings can be a lifesaver in any unexpected situation where expensive roof repairs and replacements are the only viable options to take. C.J. Deans Roofing provides top roof sealer options that work for your unique roofing needs and we will be more than happy to respond to any concerns or inquiries. We guide you from the moment we first speak with you until the fulfillment of your roofing project. Your business is significant to us and we appreciate each and every single one of our customers. Get in touch with us today to gain more understanding about roof coatings and learn how you can receive the best help with your roofing needs.